Artikel : Anwar Freed As Court Quashes Sodomy Conviction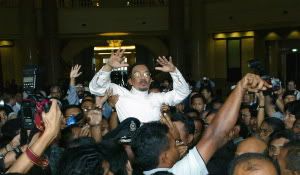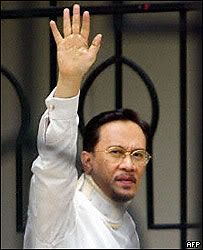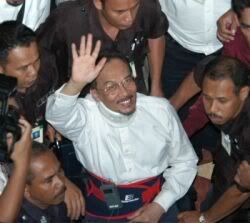 PUTRAJAYA, Sept 2 (Bernama) -- Former Deputy Prime Minister Datuk Seri Anwar Ibrahim was freed Thursday after nearly six years in jail when the Federal Court upheld his appeal against conviction for sodomy.
Federal Court judges Datuk Abdul Hamid Mohamad, Datin Paduka Rahmah Hussain and Tengku Datuk Baharuddin Shah Tengku Mahmud decided with a 2-1 majority to overturn Anwar's conviction and nine-year jail sentence imposed on Aug 2, 2000.
Anwar, 57, was sentenced on April 14, 1999 to six years' jail on four counts of corruption relating to abuse of power by interfering in police investigations into allegations of sexual misconduct.
Anwar's release from prison Thursday comes exactly six years after he was sacked from the Cabinet.
The court also overturned the conviction and six-year jail sentence on Anwar's adopted brother, Sukma Darmawan Sasmitaat Madja.
They were found guilty of sodomising Anwar's family driver, Azizan Abu Bakar, at Sukma's Tivoli Villa apartment in affluent Bangsar here between January and March 1993.
Anwar thanked the judges for quashing his conviction and sentence, saying: "May God Bless You."
Outside the courthouse, he told reporters: "Thank God that it is over. But I remain committed with my struggle for justice.
"I also give credit to the Prime Minister."
Wearing a neck brace, Anwar arrived at the courthouse in a wheelchair. He was accompanied from Hospital Kuala Lumpur, where he was being treated, by police cars and motorcycle outriders.
The vehicle which brought Anwar headed straight for the underground carpark behind the courthouse but waiting journalists and photographers were unable to follow as the entrance was then locked.
Gathered outside the courthouse were about 400 of Anwar's supporters including from Parti Keadilan and PAS, some who came as early as 7am.
Among those spotted there were Keadilan Vice President Saifuddin Nasution Ismail, PAS Secretary General Nasaruddin Mat Isa and the DAP Member of Parliament for Seputeh Teresa Kok Suh Sim.
In an 88-page judgment, Justice Abdul Hamid said the prosecution had failed to prove the case against Anwar and Sukma beyond reasonable doubt as required by the law on admissible evidence and in accordance with established principles of law.
Even if the court were to find evidence to confirm Anwar and Sukma were involved in homosexual activities and were more inclined to believe that the alleged incident did happen, the court might only convict them if the prosecution had successfully proved the alleged offences beyond reasonable doubt, he added.
He said that the issue to be determined by the court was whether, at the end of the prosecution's case, it had proven beyond reasonable doubt that Anwar and Sukma had sodomised Azizan at the Tivoli Villa one night between January and March 1993, and in Sukma's case, whether he abetted the offence committed by Anwar.
Justice Abdul Hamid said the essential part of the offence had not been proven by the prosecution as Azizan, being the only source for the date of the offence, showed inconsistency and contradiction when giving evidence and was, therefore, not a reliable source.
He said Azizan's evidence on the date of the incident was doubtful as he had given three different dates in three different years, the first two covering a period of one month each and the last covering a period of three months.
In the charge, dated Oct 5, 1998, against Anwar regarding Tivoli Villa, the date of the commission of the offence given by Azizan was May 1994.
When Sukma was charged on April 23, 1999, the date of the offence was given as May 1992 and the charge against Anwar was amended from May 1994 to May 1992.
On June 7, 1999, the charges were again amended from May 1992 to "between the months of January and March 1993".
Justice Abdul Hamid said Sukma's confession was inadmissible as it appeared not to have been made voluntarily. Even if admissible, it would not support the date of the commission of the offences alleged, he added.
The court ruled that it was incumbent on the trial judge to hold a confession inadmissible if there appeared to be suspicious circumstances surrounding the making or recording of the confession.
Justice Abdul Hamid said that there seemed to be so many unusual things that happened regarding Sukma's arrest and confession, before and after the confession was made.
The confession came after 10 days of intensive interrogation and 12 days of detention (up to the time he made the statement to a magistrate) when for all intents and purposes he was arrested as a witness but interrogated as an offender and ended up as an accused, twice.
Indeed, he was charged two days later for allowing Anwar to sodomise him, the record of which was introduced as evidence in his trial.
Justice Abdul Hamid also found Azizan to be an accomplice. Therefore, corroborative evidence of a convincing, cogent and irresistible character was required, he said.
By Azizan's own evidence, he was sodomised 10 to 15 times at various places, including in Anwar's house, over a number of years. He never lodged any report, never complained about it and he did not leave the job immediately after he was sodomised the first time.
Justice Abdul Hamid said while the testimonies of Dr Mohamed Fadzil Man who examined Sukma on Nov 10, 1994 and former Inspector-General of Police Tun Haniff Omar and Anwar's conduct confirmed both their involvement in homosexual activities, such evidence did not corroborate Azizan's story that he was sodomised by them at the place, time and date specified in the charge.
In the absence of any corroborative evidence it was unsafe to convict them on the evidence of an accomplice alone unless his evidence was unusually convincing or for some reason was of special weight which the court found it was not, he added.
He stressed that the prosecution must prove its case beyond reasonable doubt before the defence might be called.
He said the High Court had misdirected itself in calling them to enter their defence. Instead, they should have been acquitted at the end of the prosecution case.
In her dissenting judgement, Justice Rahmah Hussain said that even though there were discrepancies in Azizan's testimony relating to the date of the offence, that did not straightaway make Azizan an unreliable witness and the whole story of his evidence unacceptable.
The discrepancies were not fatal to the prosecution's case since, in sexual offences, the date was not a vital ingredient of the charge.
As to the issue of voluntariness of Sukma's confession, she found no good reason to disagree with the concurrent finding of the High Court judge and the Court of Appeal. She agreed that details in the confession rendered an inevitable conclusion that it must be given voluntarily.
She also agreed with the finding of fact by the High Court judge that Azizan was not an accomplice.
There was nothing to suggest that Azizan "concurred fully in the criminal designs of another for a certain time, until getting alarmed or for some other cause, turn against his former associate and gave information against him."
She said Azizan was no more an accomplice than a rape victim and was ashamed and afraid to lodge a police report against both of them.
"Therefore, since Azizan was not an accomplice, no corroborative evidence was required before the court could make a finding that Azizan was credible," she said.
-- BERNAMA
Source : http://www.bernama.com.my/
firul says "finally keluar gak die...aku siap masuk u and kuar u and dah keje pon, baru die kuar...yerlah koz last time die konvicted aku baru tingkat lima...bagi anwar, tentulah merdeka kali ni, merdeka paling bermakna buat die...bukan sajer dah 47 tahun mengecapi kemerdekaan malah bagi anwar lebih bererti kerana kemerdekaan ini adalah untuk dirinya sendiri... (gulp..ayat aku ker nih ?..hahahha)... anyway, tak sabar plak aku nak tengok aper akan jadi kelak....wallahualam....:)... "
posted by PuTERAKL @ 5:44 PM |
______________________________________________________________